Electronic Whiteboard For Sale
Find

equipment



Customer

Testimonials

Great service and even better price!

S.Shaws Sydney.

They gave me all the information I needed to make my decsion. Wonderful Service.

A.Voltes - Noosa
Panasonic UB5338C Colour Electronic Whiteboard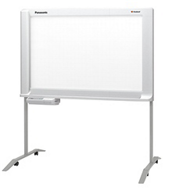 Electronic Whiteboards - Colour
Panasonic UB5338C Colour Electronic Whiteboard
$1986
1300 669 235
info@inhouseaudiovisual.com.au
The Panasonic UB-5338C Colour Electronic Whiteboard allows the user to scan their presentations to USB flash drives or SD Memory Cards whilst still maintaining the versatility of a conventional whiteboard.

This color whiteboard scans in PDF and JPEG formats without the need for a driver on both Windows and Macintosh computers.
Colour Scanning System
SD Memory Card / USB Flash Memory Storage
Direct Printer Output Capability
Easy-to-Read 1.8" LCD Screen
Password Lock for Secure Operations
Connects to a list of compatible external printers (ask for list)
SD Memory Card & USB Flash Memory
A built-in SD Memory Card slot and USB Flash Memory port allow you to store your data directly on a removable SD Memory Card or USB Flash Memory device and transfer it to a PC.
Features & Benefits
Easy-to-read 1.8" Colour LCD
Because it is equipped with a colour LCD that lets you confirm scanned data on the spot, its ecological design makes printouts no longer necessary. And because it displays the operating status with easy-to-follow icons, it is easy for anyone to operate.
Clear Marker Reproduction Technology
The blurry marker text that was so difficult to scan can now be accurately scanned to produce easy-to-read conference notes.
Thin and Lightweight
This thin, lightweight board is ideal for wall mounting. Rear panel protrusions have been reduced to enable neater, more attractive mounting. The design is a great match for today's modern offices and conference rooms
Password Lock for Operation
After turning on the power and setting a four-letter password, data cannot be saved until the password is input.
By turning on the Screen Erase Announce function, an icon appears on the LCD when scanning is finished as a reminder that the board has not been erased
Board Size: 1125H x 1636W x 224D (mm) without stand